Gold Is Sound Money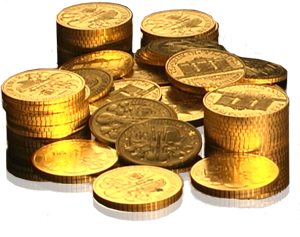 Throughout recorded history, especially in turbulent times, individuals and investors have searched for an investment that will protect them and their families, and act as sound money and a true storehouse of wealth and value – regardless of a nation's economy, the state of its currency, or governmental policies or actions.
More than any other investment, that true storehouse of wealth, for more than 5,000 years, has been gold. At the core of gold's unique and timeless appeal is the simple fact that free men everywhere have the inalienable right to take independent action to protect their family's wealth. Since inception, Monex has supported the rights of citizens and investors to own gold, a premier financial asset.
A Dynamic Opportunity for Investors
For centuries, gold and silver have been a haven for investors in times of economic uncertainty. In light of today's highly volatile economic climate, and with the printing of paper fiat currency at an unprecedented rate by the government – Monex believes every prudent investor should consider converting at least part of his or her paper into tangible assets like precious metals. Not only can gold and other precious metals serve to protect one's wealth but they also provide a very timely and dynamic profit opportunity for investors.
Individual Rights and Responsibility
We live in a dynamic, fast-moving world where change has become a routine part of our daily lives. For example, the effects of changing governmental policies, shifting political alliances and mounting internal and external social pressures can and often do combine in unforeseen ways to impact the economic health of our country and that of other nations.
In this uncertain world of the 21st century, the whims and fancy of a select few can quickly alter the economic security, stability, and order we have come to expect and take for granted in our free society. In the end, it is the responsibility of each of us, individually, to be prepared for change when it happens…and take the steps necessary to adapt, and capitalize, on change when it occurs.
Uncertainty in the Markets
Nowhere is change more prevalent and pronounced than in the world's financial markets. Prices on stock and bond markets, and on currency and commodity exchanges, can and do change throughout each trading day. Periodically, these changes are quite dramatic, resulting in volatile and unpredictable market conditions. At such times, a diversified investment portfolio may help protect an investor from the full effect of unanticipated and potentially disastrous market movements.
Hedging Against Uncertainty
Many financial professionals believe that investors should diversify their investment holdings, having between 5% and 20% of their net worth in gold and other precious metals.
Historically, gold has been a premier financial asset in times of uncertainty. It's one of the only financial assets that's not simultaneously someone else's liability. With the federal government spending and producing fiat money at an unprecedented rate, there is little doubt that during the next several years we will see the national debt grow by at least a trillion dollars a year. If gold prices continue their historic record of reflecting uncertainties in the financial world, it behooves you to include gold as part of your investment portfolio.